About this project
Would you help us releasing our live conceptual album and its movie?
Show list of needs
Material

Minimum
Optimum
DISK EDITION

7" single vinilo klasiko formatoa eta barruko liburuxka duen CD-aren 500 kopia

€ 1.250

MERCHANDISING-a

Kanpainarako behar beharrezko material, sariak eta bidalketarako gastuak

€ 610
Task

Minimum
Optimum
LIVE PRESENTATIONS

Soinu eta argi teknikariak, atrezzo eta eszenografia

€ 450

SOUND PRODUCTION

Ekipoen alokairua, soinu ingenieritza (zuzeneko grabaketa, edizioa, nahasketa eta masterig-a)

€ 1.550
EXECUTIVE PRODUCTION

Errodajeko asteburuko otorduak, entzuleen catering-a eta lorategiaren egokitzapena eta alokairua

€ 600
DIFUSSION PROMO

Komunikabideetara sarbidea eta difusioa

€ 400
ARTWORK

OBRAREN ETA MERCHANDISINAREN DISEINUA ETA IKONOGRAFIA

€ 400
VIDEO PRODUCTION

Zuzendaritza eta pelikularen muntaia, 3 kameralari eta audio teknikari laguntzailea

€ 2.500
Infrastructure

Minimum
Optimum
GOTEO & TRANSACTIONS

Goteo 4%, banco 0,8%, Paypal 3,4% + 0,35€/transacción

€ 198

DIGITAL HOSTING

Obraren eduki digitalak zabaltzeko online difusiorako Web-a eta domeinua

€ 270
Total

€ 2.508

€ 8.228
General information
Hello, we are Hostoak and we are pleased to present the work we've created based on the novel "Der Steppenwolf" by Hermann Hesse. This work consists of a live concept album and a film about it, in the idyllic gardens of Lur Paisajistak, plus the artwork of the whole.
The crowdfounding campaign to which we invite you to participate intends to raise the funds necessary for the physical release of the CD, the release of the film on digital platforms, technical infrastructure and promotion, and to give a dignified reward to all participants, both professionals and volunteers who are making this interdisciplinary project materialize in a cooperative manner.
We believe in the philosophy of cooperation. In our country there is a concept called "auzolana" ( "neighbourhood work "), in which tasks of joint collaboration are made, each giving what he knows, teaching and / or learning, in order to generate a good or an improvement in the community. Thus, we wanted to break down barriers, freeing the creativity and cultural inspiration, for the sake of a more fair and sustainable society.
Do you want to join us?
Main features and goals of the crowdfunding campaign
The whole work has been developed by Olmo Cascallar, lead guitar and lead vocals in Hostoak. While developing an activity linked to the local and international Metal circuit , in recent years he begun creating more relaxed and lyrical musical compositions. The very need to create a work in which everything has a reason to be with an aesthetic purpose, has led him to develop a conceptual album. The work started to take shape when he found the parallels between his compositions and reflections, with the confrontation between the Steppenwolf and the decadent bourgeois attitude of the man in his old age, as it´s reflected in Hermann Hesse's novel.
After defining the concept, and the songs are demoed, it is when the band meets and intends to make the recording of a live album and recording it on film, inspired by the work of Pink Floyd - Live at Pompeii, among others.
In autumn 2015 the compositions were done, with drums laid by Joxan Glez. Arruti, and all other instruments recorded by Cascallar in his studio, with input from all band members. It is called "Estepako Otsoa" and consists of 9 tracks that could be classified as progressive or Alt Rock/Art. You can listen to it in our Bandcamp: www.bandcamp.hostoak.com
The project concept is eminently artistic. It is not only the release of a live album. The film is the centerpiece of the work. The director Lander Garro, in harmony , intertwines images and live sounds. The landscape and the environment are essential to associate the essence of the compositions performed by the band ("Hostoak" means leaves). This is the reason why we chose the garden of Lur Paisajistak, a botanical R & D by Inigo Segurola and Juan Iriarte (www.lurpaisajistak.com), in the forest of Iturriotz, Oiartzun (Gipuzkoa).
On May 28 the filming was done. Although preparations began months earlier, they were three days of hard work for band members, camera operators, sound engineers and garden workers; not to forget the public of the performance, made up of friends, family and people interested in the project. A great example of teamwork. The dimension of the work done for an effective amount of tape of about two hours is too large to make a summary. To get an idea, if it had been hired, the cost would have amounted to several thousand euros. See the video for "Hermine" available on our YouTube channel as a reference.
The publication of the work will have a physical CD and an online access code to the movie. All under Joxan Glez. Arruti, Hostoak drummer´s design, housed in an attractive 7 "vinyl box, plus booklet.
The launch and live shows, which will merge concepts and iconography of the concept album, will start at the end of January. Dates will be confirmed throughout the campaign, although it is confirmed that the first presentation will be in the auditorium Gezala in Lezo, to thank the council itself for letting us use their facilities during rehearsals prior to filming the disc.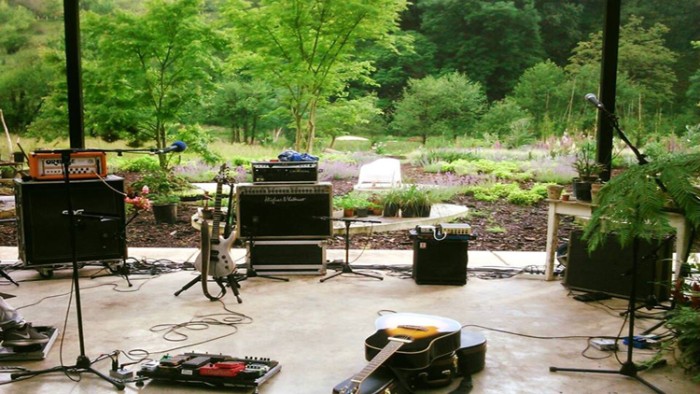 Why this is important
We classify this project as global and interdisciplinary, from the very first draft of the idea has had the desire to overcome barriers between different artistic expressions. The lyrics were created in two languages: In English, the universal language, and Basque, our mother tongue. We start from our territory, where funding for cultural creation is scarce, and we feel extremely graceful to have this opportunity to offer a musical stimulus, creating a concern, motivating the desire to create, sharing and developing projects and demonstrate that there are alternatives to carry them out.
In our case, aware of the difficulties for a proposal like ours in Euskal Herria, we are in talks with specialized labels to help us get a more direct way to potential listeners. We hope our experience will also help in this purpose, especially abroad (Chile, England, Germany ...).
Hostoak´s initiative is already prepared, the only thing left is the editing, publishing and presentation. So far, the creation goes ahead and we are working on different setups for live shows. Over all, we know that the base of this project is a group of friends, and it´s the own group who supports it, regardless of personal goals and rewards (directly non-profitable).
Goals of the crowdfunding campaign
It´s the first time we are using the crowdfounding formula to carry out a project. It is fully in line with our philosophy of cooperativism and DIY (Do It Yourself, selfpublishing, etc.).
From the beginning we have believed in this project, so we have chosen to make all production by ourselves. The concept album, recording and editing of the feature (both audio and video) and the artwork of the whole were made at 0€ cost. All this as a result of exchanges of favors between peers. Today the only thing left is the publication and live shows. This is the bar to overcome in our first phase of campaign during the forty days between September 15 and October 25. Once collected the 2,508 € of minimum requirements, our project will have earned the right to continue to the second phase.
This second phase consists of another forty days after the end of the first round, until December 3. The goal here is to raise as much as possible to thank worthily the director's work (Lander Garro) and the crew of the film (Gaizka Eizagirre, Julen Ibañez and Borja Mintegiaga) and all the time invested in the production of the album and the live album by Olmo Cascallar (with aim of improving the equipment for future work). It would also help to pay all the borrowed equipment costs, executive production costs, promotion of the official launch of the work, streaming on digital platforms, etc ...
The 8,228 € of best needs we have indicated in the campaign are designed to give a value to the work. This would be the approximate actual market cost. The fact that we have been able to perform it all as a self-managed production and cooperatively, should not detract from the final product, but quite the opposite. We leave in your hands to evaluate it, assuring that even without successingin this goal, we will split all the achievements in a fair way between all parties.
This project has been developed by Olmo Cascallar, lead guitar and lead vocals in Hostoak. Internationally known as the lead guitar for Anglo-Chilean band Criminal, with whom in four years he recorded an album and did countless tours and festivals on both sides of the Atlantic, sharing the stage with legends such as Kiss, Slayer, Marilyn Manson, Motorhead, Mastodon amongst others. In his native Basque Country it´s band Gamora won the prestigious Villa de Bilbao in 2011, and performed at many festivals.
Despite being a new band, our background is extensive, experienced in a thousand and one projects, having previously collaborated on several of them. Besides being old friends, we know what it is to work side by side. The remaining members of Hostoak are half of Lezo and Irun, and are the following:
Álvaro Hermida (acoustic guitar and vocals)
Live musician since 1993, currently in Hostoak and Herber. Former member of Bort (Drums / Guitar. 1995-2014), Radio Terror (Keyboards / Samplers live. 1999) and Dirty Trick (Drums 1993).
Joxan Glez . Arruti (drums and samplers. Artwork of the album and movie)
Drums and percussion teacher at the academy SKOLAMUSIC, collaborates annually in musical educational sessions with the council of Irun and carries out activities in collaboration with other entities and municipalities such as Hondarribia and Hendaye.
Creator and director of the percussion ensemble TALKA (belonging to SKOLAMUSIC).
For years he played in brass bands and fanfares as Txantxangorri, KILIKARIAK, GAUERDI, LARRAKAITZ ...
Rock bands in which he participated: HANDICRAFT (2007 Finalists Villa de Bilbao pop rock section), BORT, DIRUA, Gamora (Winners VILLA DE BILBAO 2010), Liher (Winners contest AZKEN DANBA 2016)
All graphics of the project are designed by him, in addition to being a professor at MusikEskola, he earned a Fine Arts degree in photography.
Iraitz Montalban (bass)
A well known player in the local scene, he has collaborated on projects of various kinds, from pop (Lauroba 2006-2008), rock (Desoreka 2008-2010) or electronic (Krell 2010-2012) to various local jazz ensembles.
Ekaitz Bravo (guitar and vocals)
Guitarist and vocal in Oarsoaldea band Yelow Page (2007 posthardcore) and former member of Anai Arrebak (2012-2015 Punk Dance). "
Lander Garro (Film Producer)
He has been responsible for directing and producing the film. Reporter, photographer, writer and video producer. these are the albums on which he has collaborated:
-Mikel Laboa "Zuzenean" Elkar.
-Big Crunch-in "Club 27", self produced.
-No toxic pipe "9 funnies" self produced
-Psicosis Taldearen "Psychosis" Elkar-Soinua
-Iñaki Salbador "LATI 2-Taupadak" IZK
-Kashbad "Distantziak" Esan Ozenki
-Mikel Garikoitz "2-Ziri-K"
-Xabier Montoia "Xabier Montoiaren miresgarria mundu" (Bidehuts, 2014).
-Ken Zazpi "Ken zazpi & Euskadiko Symphony Orchestra" (Elkar, 2013).
-Eñaut Elorrieta "Deserriko Kantak" (Elkar, 2014).
-Sorkun "Ziklomorphosia" (2015).
-Ken Zazpi "Phoenicoperus" (Elkar, 2015)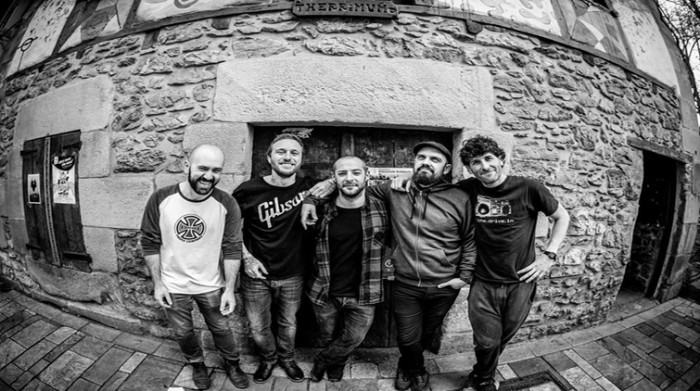 Social commitment
Shared materials
THE FILM: HOSTOAK LIVE IN ITURRIOTZ

The Live Movie

Licencia de Producción entre Pares

La licencia de producción entre pares es un ejemplo de licencia Copyfarleft con la que únicamente aquellas personas, cooperativas o entidades sin ánimo de lucro pueden compartir y reutilizar la obra, pero no se permite el uso lucrativo por parte de entidades comerciales cuyo objetivo sea obtener beneficios económicos de la misma sin una reciprocidad explícita hacia el procomún.

THE CD - HOSTOAK LIVE IN ITURRIOTZ

CD of the live recording

Licencia de Producción entre Pares

La licencia de producción entre pares es un ejemplo de licencia Copyfarleft con la que únicamente aquellas personas, cooperativas o entidades sin ánimo de lucro pueden compartir y reutilizar la obra, pero no se permite el uso lucrativo por parte de entidades comerciales cuyo objetivo sea obtener beneficios económicos de la misma sin una reciprocidad explícita hacia el procomún.